< Back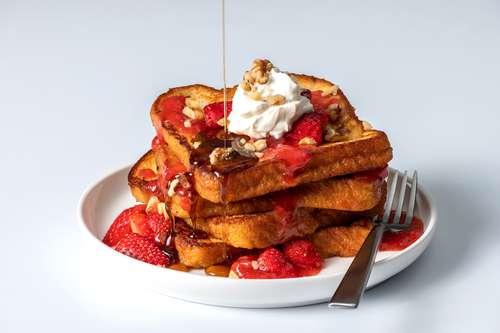 Strawberry Mascarpone French Toast
Ingredients
● 6 slices Potato Bread
● 1 1/2 lb fresh strawberries, hulled, halved, divided
● 2 tsp fresh lemon juice
● 1/4 cup sugar
● 2 tsp cornstarch
● 1/2 cup mascarpone cheese, room temperature
● 2 tbsp honey
● 2 large eggs
● 2/3 cup whole milk
● 1/4 tsp ground cinnamon
● 1 tsp vanilla extract
● 1/2 cup walnuts, toasted, roughly chopped
Instructions
Add 1 pound strawberries, lemon juice, sugar and cornstarch to medium saucepan over medium-high heat. Mash strawberries with fork or back of spoon to break down. Cook, stirring often, until sauce thickens, about 10 minutes. Keep warm over low heat.
Add mascarpone, and honey to medium bowl and whip until smooth. Set aside.
Beat eggs, milk, cinnamon, and vanilla in large baking dish. Dunk both sides of bread slices in milk mixture and soak for 5-10 minutes.
Heat greased griddle or skillet over medium-high heat. Add soaked bread slices and cook for 3 minutes per side, until golden brown. Repeat with remaining slices if necessary.
Top warm french toast with a drizzle of warm strawberry syrup, a dollop of whipped mascarpone, and a handful of remaining strawberries.