< Back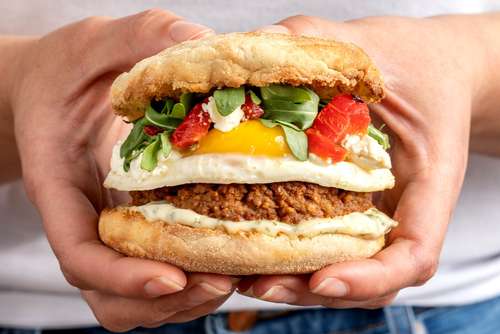 Spicy Mediterranean Sausage Breakfast Sandwich
Ingredients
● 4 Rise & Shine Plain English Muffins, toasted
● 1/3 cup mayonnaise
● 2 tbsp minced fresh cilantro
● 1 tsp fresh lemon juice
● 12 oz ground spicy Italian sausage
● 3 tsp vegetable oil, divided
● 4 large eggs
● Kosher salt and freshly ground black pepper, to taste
● 1/4 cup crumbled feta cheese
● 4 pickled pepperoncini peppers, stemmed, sliced
● 1 cup baby arugula
Instructions
Combine mayonnaise, cilantro, and lemon juice in small bowl. Set aside.
Form sausage into 4 4-inch patties. Heat 1 teaspoon oil in skillet over medium-high heat. Cook patties until golden brown, about 4 minutes per side. Transfer to plate.
Whip pan clean with paper towel and add remaining oil. Cook eggs until whites are set and yolk is still runny, about 2-3 minutes. Season with salt and pepper to taste.
Top bottom half of English Muffins with a spoonful of cilantro mayonnaise. Layer on cooked sausage patty, fried egg, a few teaspoons of feta cheese, a few slices of peppers, and a handful of arugula. Top each sandwich with Muffin top and serve.