< Back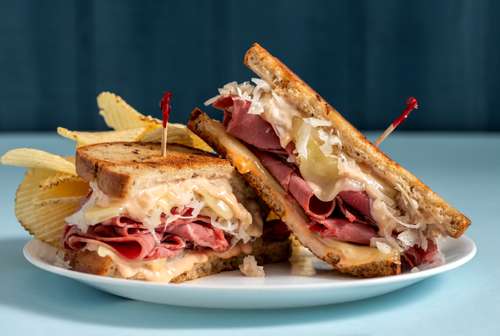 Classic Reuben
Ingredients
● 8 slices Deli-Style Seedless Rye
● 1/4 cup mayonnaise
● 2 tbsp ketchup
● 1/4 cup sweet pickle relish
● Kosher salt and freshly ground black pepper, to taste
● 4 tbsp unsalted butter, softened
● 8 slices Swiss cheese
● 8 oz sliced corned beef
● 1 cup sauerkraut, drained
Instructions
Add mayonnaise, ketchup, and relish to small bowl and mix to combine.
Preheat large skillet or griddle over medium heat.
Spread butter evenly on one side of bread slices. Spread mayo mixture on opposite side of bread slices. Top 4 slices, mayo side up, with 1 slice of cheese, a few slices of corned beef, 1/4 cup sauerkraut and remaining cheese. Top with remaining bread slices, buttered side up.
Cook sandwiches on both sides until golden brown, about 5 minutes per side. Cut in half and serve hot.