< Back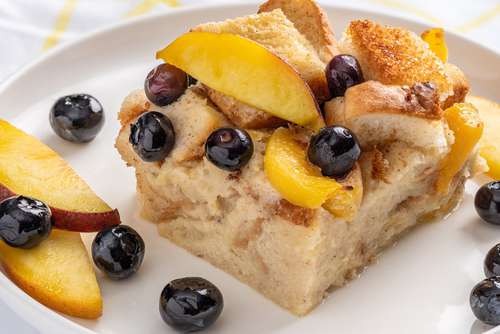 Blueberry Peach Buttermilk Bread Pudding
Ingredients
● 5 cups 1-inch cubed Sunbeam White Bread
● 1/4 cup unsalted butter, melted, plus more for greasing
● 2 cups blueberries, divided
● 2 cups sliced yellow peaches, divided
● 3/4 cup sugar, divided
● 1 lemon, zested
● 2 large eggs
● 1 1/4 cup buttermilk
● 1 cup whole milk
● 1 tbsp vanilla extract
● 1 tsp ground cinnamon
● 1/4 tsp ground nutmeg
Instructions
Preheat oven to 350°F. Grease a 8x8" baking dish with butter.
Combine 1 cup blueberries, 1 cup peaches, 1/4 cup sugar, and lemon zest in large bowl. Set aside.
Toss bread, remaining blueberries, and peaches together in prepared baking dish.
Add eggs, buttermilk, milk, remaining sugar, vanilla, cinnamon and nutmeg to large bowl and beat until smooth.
Pour egg mixture over bread mixture. Bake until knife inserted into center comes out clean, about 50 minutes.
Top with blueberries and peaches, and serve.